I think it is possible that the former occupant of our house received the most post ever. For months on end we were e-mailing an incredible amount of organisations to remove us from their mailing lists – from double glazing manufacturers to decathlon training outfitters, freemason organisations, and the one which tugged at my heart strings a little (and I had serious thoughts about joining). – 'Friends of Ferrets'. Two years later we are still receiving letters for Mrs W, and 'returning to sender' has become almost a ritual in our household.
There is however one subscription that there is no way I will ever be able to part with, and that is Mrs W's bi-annual wig catalogue.
Now I had little experience or knowledge of wigs until this arrived on our doorstep some months ago, but it has opened up a whole new world to me.
Firstly there is the choice (and considerable) price point between a synthetic and a real hair piece. It is a difficult decision, but having researched the issue thoroughly, I believe 'real hair' does indeed give you a more luscious look, but I am still unable to come to terms with the thought of stepping out with a head of hair manufactured by a foreign scalp. There is also the hassle of split ends and the thought of lingering dandruff or even head lice that seals the deal with synthetic for me. Even though this does, as warned, pose with it a greater risk if the wearer were to experiment with naked flames, or even 'open the oven door' in some cases. If attending an event therefore where unusually the host has brought in the caterers, the reason may not be purely gastronomical. And one ought to be cautious around the candelabra.
The main reason however, I appear to be so enthralled by these fascinating reads of follicle loveliness, is the rather endearing names given to each 'do'. Rather than referring to each wig as a 'bob' or 'elfin cut' as one might given a conventional style, they are given monikers such as 'The Virginia', 'The Sophia', or if you are feeling rather racy, 'The Mauritius'.
What is more, you may also choose from a wide range of shades such as 'shaded wheat', 'platinum' and the rather disappointingly named brunette choice – 'medium'. For the older lady not afraid to sport some silver, 'granite', 'truly mink' and 'sahara' are also available. I am always rather tempted by styles in the fetching tone of 'honey glaze', but I then become rather distracted by a longing for gammon.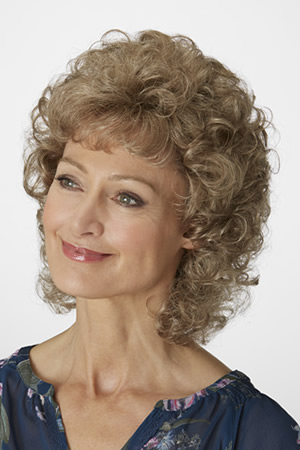 'Jacqueline Wigs' and 'Natural Image', the two publications we receive also carry 'wig styling and care' tips which, of course, I too have a penchant for. Achieving a 'wet look' for example is possible by simply combing your 'wig conditioner' through from scalp to tip, and leaving for an hour for the fibres to assume a stylised placement.  An 'up do' may also be achieved for longer wigs by conventional means, but go easy on the hair spray as even a venture out in fine weather may mean a visit from the emergency services. The most important feature of securing the desired look however is to achieve a good fit on your wig. This is possible by adjusting the velcro fastenings inside the head piece, along with the 'anti-slip strips' which means the wearer may feel ever confident in blustery conditions. Vital I would have thought, particularly by the coast.
And so, I shall leave it here, sad in the fact I shall have to wait a further 6 months until my next wig fix, but rather excited at the thought of what the winter collection may bring. I shall be looking up tips on 'hat hair' in preparation.