If I achieve nothing else in this life, I shall at least try and keep my promises.
On his wedding day, as I sat lounging on a chair – a free glass of his bubbly in one hand and the remains of a chocolate torte in the other – Chris Maguire mentioned to me that it had been quite a while since I had last blogged. I responded by offering various excuses as to why this was so (all of which are quite legitimate), and promised him that my 'come back post' would  feature his special day. To be fair it was the least I could do sitting opposite a chap whose food I was so merrily scoffing…..
It was in this post last year that I featured 'the ring' given by Chris to my very good friend (and work colleague) Helen. On Saturday the 11th October of 2008 this fabulous couple married at St Nicholas' Church in Worth, Crawley in the most glorious autumnal sunshine. It couldn't have been a more perfect day, and despite Neil and I having mistakenly managed to book ourselves into a hotel 4 miles from the reception venue instead of the recommended one opposite, everything went without a hitch.
Helen of course looked stunning, as did her bridesmaids who I was informed beforehand were to wear 'Latte'. Knowing Helen has superior taste I wasn't willing to question her decision, although I have to admit to being quite relieved when the bridal party teetered delicately down the aisle wearing dresses*.
Here is a picture of the happy couple having just signed up to a life of selective hearing and heated discussions over wallpaper samples…
The reception was in a delightful barn kitted out with balloons, bubbles and lots of little glittery bits adorning the tables. The guests were also welcomed with their own place cards – the adults being given a tasteful ivy design – whilst Helen had thoughtfully catered for the children by decorating their cards with favourite motifs….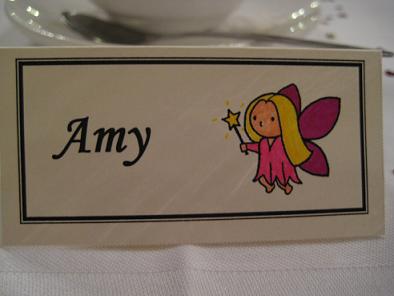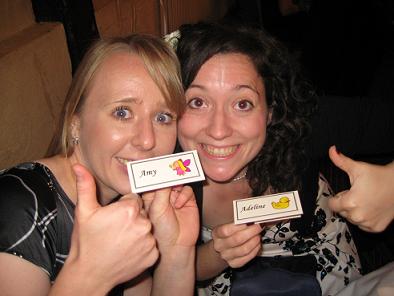 The afternoon soon turned into evening… the cake was cut (and was delicious)…
… and drinks were had. One thing led to another and….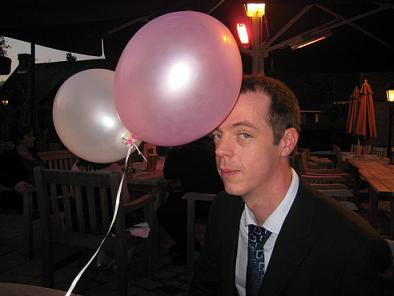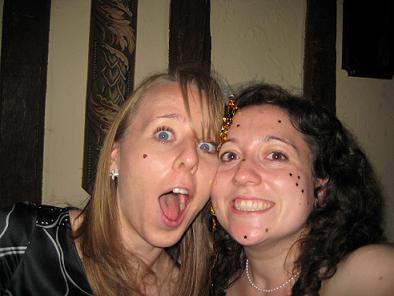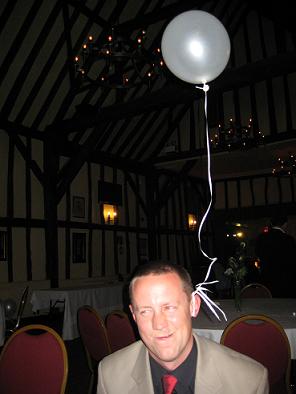 Enough said….
Thanks Helen and Chris for a top day/night! Wishing you every happiness in your lives together and hope you have a fantastic time in New Zealand!
* Author aware of sad 'Dad' joke. It won't happen again I promise. I blame it on 2  and a half years of living with Neil.