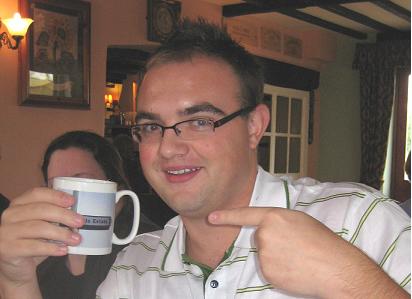 Iain: "This is probably going to end up on your blog isn't it".
Yep.
Today Iain celebrated managing to survive two whole summers with us in 'Planning Policy' which, along with all of the obvious benefits of gaining solid work experience, has been useful in providing further confirmation that upon leaving University, Iain does not wish to pursue a Planning career.
We're not doing very well, two other students who've left us said the same…
Mr Lock will be most missed for upping the 'young people' numbers, providing car park companionship for my small blue hatchback, being as rubbish as me at map reading (meaning several return visits to some sites), for having a healthy regard of Wellingtonia Avenue and the fact that 'Nine Mile Ride' is really that long- and his extensive knowledge of the Molly Millars area was truly impressive.
For his leaving gift Iain received a mug with pictures of a Wokingham Industrial Estate on it, with which he seemed genuinely delighted.
As good an indication as any…. it was time to leave the Planning Office.