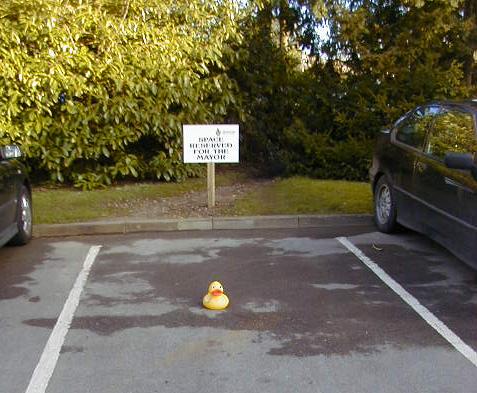 It is time for a quick catch up.
Unfortunately Uni work, work work, and the little life lived in between appears to be all I can cope with at the moment, so in an effort to get down all I would like to say but in a more time efficient manner, I rely once again on the often irritating yet largely convenient bullet point;
The picture above is a duck in the Mayor's car parking space at work. In order to make our jobs more lively we are seeing how many ducks we can get in the Wokingham Town Centre Master Plan without the Chief Executive noticing. This one was rejected for its indiscreet nature. Others are just genius!
Tony hopefully you are now in reciept of your prize? Sorry it has taken so long, there were some quality control issues.
I'm pondering that I am probably more excited about Neil's birthday on Wednesday than perhaps he is.
I was given an assignment on Tuesday that is due in next week. Therefore I deem all lecturers as evil.
I am seriously contemplating becoming an Alpacca Farmer or making paper hats professionally.
Sometimes all you need is a gin and tonic and a play list of songs you can just sing your heart out to.
I'm doing the latter right now.
I need something to keep the energy up!
See you when I surface next.