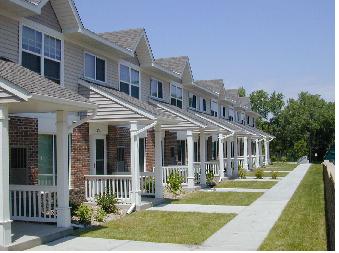 And there we have it.
Back to work and already knee deep in University assignments. It is here I turn to you dear reader, for your help in my quest to make it through to August without spending time on a ward wearing a long sleeved overcoat that fastens at the back…
My latest task involves writing a presentation to do 'density'. You see, the government in their efforts to make/keep England 'Green' have decided the best way to accommodate all of the extra housing we need is to intensify the use of land – i.e. build houses a bit closer together, in terraces or apartment blocks. Living with lots of people around you has – in the past – generally been viewed as a bad thing, especially when people think back to some of the badly designed tower blocks in the 1960's with high levels of crime or the neglected rows of terraced houses typical in more deprived areas.
There are however also supposed advantages to 'high density living' – it seemes to work for people in Belgravia and the posher bits of london for example who's residents seem to like living closer to shops, public transport, lap dancings club and other fine cultural activities. You see there are stacks of people all bundled together in London which make things like these financially viable – and as many of my friends would argue, they can be seen to enjoy a better standard of living with such facilities.
So here is my big ask…
As part of my presentation I wanted to include a random poll of people who have been asked the question:
What do you think about high density living? Is it a good or bad thing?
Such examples include a lot of new housing estates built recently, terraced homes are considered high density, apartment blocks etc.
I was going to take a quick survey at work, but they're all planners here and their answers would be long winded and boring. Instead I was wondering whether you may be so kind as to drop your thoughts into my comment box and star in a much acclaimed, bound to be oscar nominated, Masters Degree presentation?
As an extra incentive I will also be holding a prize draw for all entries, where one lucky someone will be picked at random from my comment box on 15th January and will be sent a mystery gift – a mystery becasue I haven't thought what it might be yet!
Aren't you excited!?!?
Thanks very much in advance to anyone who can spare me a bit of time! Extra Karma points for you!
Disclaimer: Please don't call me with your answer as I am still learning to use my new phone and might cut you off by accident. Otherwise calls are free for some people with inclusive network minutes or charged according to your network if (bless you) you still use credit. Names will not be used as part of the presentation and so your comments will remain anonymous. A commentor will be invited to any award ceremony resultant of this presentation. The prize draw will be a fair one as it will not involve either Phil, Fern or some goon from Blue Peter. The draw will be carried out by an external invidulator at 9:00am or whenever Neil can be bothered to get up. Not suitable for Children under 36 months. Never leave a candle unattended.