Something I quite often shout up the stairs to Neil in the morning as I fly out of the door to work, mostly when a decision needs to be made about when the electrician should come, whether we should have sausage and mash when Amanda comes round for dinner, or if I should buy some more matt varnish at lunchtime…
I never really thought he might take my request quite literally…
For our summer hols this year, me and the boy went to Hong Kong, Phuket and Bangkok – and I have to say it was mega! I can't really decide on my favourite bit, although our day at Victoria Peak in Hong Kong was particularly memorable I have to say….
It started out with us taking the extortionately priced Star Ferry (return ticket for 30p) across to Hong Kong Island from Kowloon (the central island of Hong Kong where we were staying).
We ventured through the 'downtown' business district where there are some truly awesome sky scrapers. I loved this one which looks like Koalas are hugging it…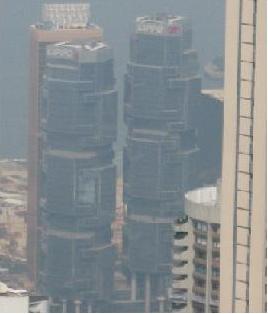 Ooh – and also the notorious 'Bank of China', disliked immensely by locals for its angular design which is thought to reflect bad 'feng shiu' onto other buildings.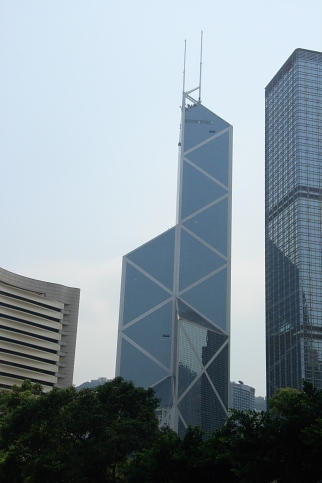 After winding our way through the various parks and squares of Hong Kong Island, we eventually found the funicular railway station and caught a train up to 'The Peak' which tilts you at a most exciting angle (27 degrees up a 48% hill apparently).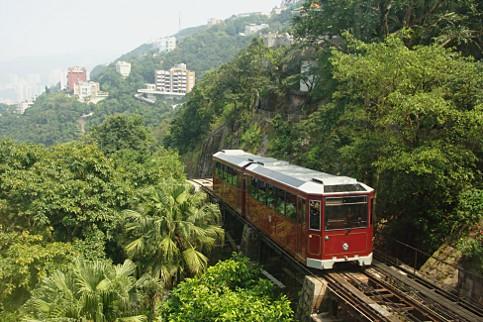 Once at the top we admired some spectacular views across the city… shame it was a bit misty though!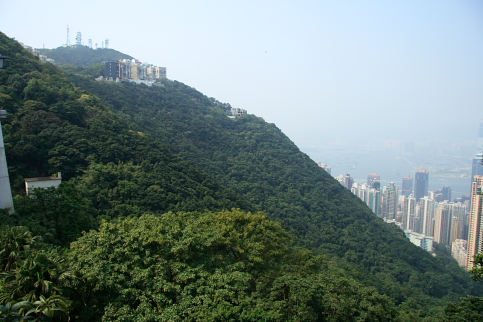 We took quite a long walk around the circumference of the mountain to check out some of the millionaires' pads, and I found amusement in how polite even the most necessary of public notices are….
We found a bench with another breath taking view – although the situation of the bench was slightly less picturesque…
Following which Neil had a funny 5 mins…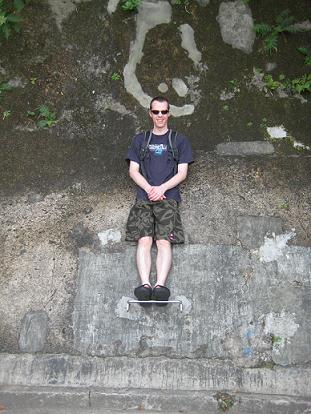 And I pretended to be a waterfall…
By this time we had built up quite an appetite, so found a lovely place that served some great wine and grub and latterly we sauntered on to a watering hole where I found a lush Cosmopolitan…
Then it got dark. This is when Hong Kong comes alive (seriously shops don't open until 11am, but the equivalent of Robert Dyas opens till midnight), so we went to take some photos of the skyline…
And then Neil tied his laces …. although actually he didn't.
Instead he produced a ring, which was then followed by some nice words. Unfortunately neither Neil nor I can remember what those nice words were (of course this had nothing to do with the drink), but we assume the outcome was positive as within seconds (and I mean seconds) of a ring being produced it was on my finger.
Neil is already planning to cash in on the counselling offered as part of our wedding insurance… he did ask!!
Here is the beaut…!
Now, normally I have an aversion to camera tripods, but I set my differences aside momentarily so we could get proof that what had actually happened – happened (note the look of shock on Neil's face – and what is wrong with my hair!!). This was just in case Neil changed his mind overnight, hid the ring and told me I had dreamt it…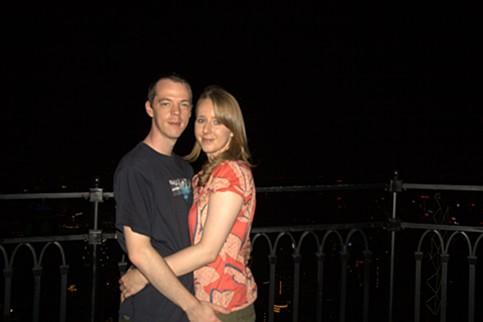 But he didn't.  This is me the morning after the night before, at my happiest as I am pictured with two of my most favourite possessions (both purchased for me by the boy – what a star) … a very shiny diamond and GHD hair straightners.
If this isn't love, I don't know what is!