Turner's Tours has now entered into its second year.
For something that started out as a trip to 'Go-Ape' in Bracknell Forest (see gallery for photos kindly provided by Mr McMichael), we've actually managed to fit in visits to quite a few places including ice skating at Somerset House on New Years Eve, Ghost Walks in London, an evening at the Covent Garden Comedy Club, and a lots of bopping on 'bar benches' at the Reading Real Ale and Jazz Festival. Its really just been a great excuse to catch up with people I might otherwise not get to see so often and do something random and silly. I hope we can keep it up, I've had a lot of fun so far!
Anyway, due to a bit of nagging that Turner's Tours should acquire a slightly more official status, I hereby launch its new look…but one that might need explaning.
Turner's Tours has become Turner's Tors
You see 'Turner Tours' already exists.
'Turners Tours' also already exists.
I thought about  making it 'Turner's Tourz', but decided that sounded a bit common and lowered the tone of such a classy organisation with its high profile members.
I therefore have settled on Turners Tors (http://en.wikipedia.org/wiki/Tor) as a play on words. This is because tors are known for their magical, mystical properties (thus a magical, mystery tor…) , they are the 'high point' (they are for me), and seeing as base camp for tours is at WHS Lilac Walk, situated on quite a steep hill,  it seemed rather appropriate.
So I had a name. Just needed a 'look'. This is what I came up with: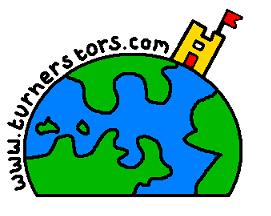 Lots of Tors have a castle on top, thus does mine. I also decided to make the hill into the world, just because it looked prettier and I guess you'll never know where we might end up on a Tor – especially if I'm map reading!
I'm open to suggestions for alternative designs.
Apparently a range of 'Tor' pants could go down well though…
I'll leave it there.