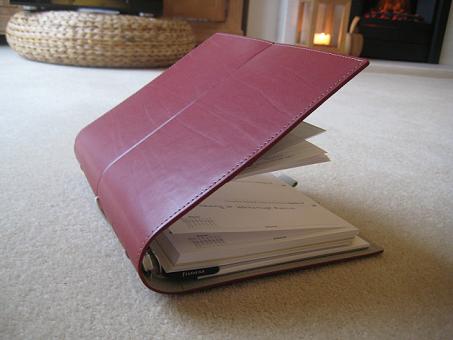 Isn't she a beaut?
I have to admit to being a bit of a closet diary fanatic. In fact the only thing that makes the cold dark days of January marginally bearable is the excited anticipation of getting my hands on a scrummy new book, all leather bound and full of crispy white pages with useful reminders of the pinnacles of one's year already written in it. Lord knows I would be forever missing out on 'international youth tobacco abstinence day' otherwise.
This year's diary like others before is already stuffed full of my random effects – little notes I write to myself, receipts, movie stubs, recipe cards, post-its with phone numbers on and a whole load of other random things that just appeal to me. Another habit I seem to carry on each year is keeping a record of certain events that are of particular note. I have to say that I had every hope that 2011 would turn out to be a remarkable year, but I hadn't counted on collecting so many jottings already. Below is a refined selection:
Wednesday 5th January : Fell in wheelie bin having rescued mistakenly discarded tin of pledge (lavender). Recovered by John next door after he thought 'the foxes were at it again'.  Made lasagne for dinner
Friday 7th January: Ate last of nice cinnamon Christmas biscuits. Found Ryvita more edible if coated in nutella. Doesn't work on cornflakes. Reminder: Renew Gym..
Saturday 8th January: Picked up PVR from John Lewis depot after stressful navigation of one way system only to fall victim to arrogant BMW driver stealing parking space. Dog on walk peed up expensive alloys. Karma.
Monday 10th January: Sold blue and white dress from Phase Eight on eBay. Bit too revealing. Posted to Essex at 17:12 – Recorded Delivery.
Tuesday 11th January: Picked Neil up from station in pyjamas – definitely got away with it. Nice man from no.14 who looks like Tim Henman took in wheelie bin for us. Suspect neighbours have been talking.
Wednesday 12th January : NB after visiting a public convenience make sure dress is fully pulled down under winter coat to avoid coffee shop embarrassment. Reminder: Order new 'control' tights. Set PVR to record new 'Relocation'.
Thursday 13th January: Got rust off bathroom tile with arm and hammer enamel restore and Immac.
……..I use 'remarkable' in the loosest sense of the word.
I'll work on it.