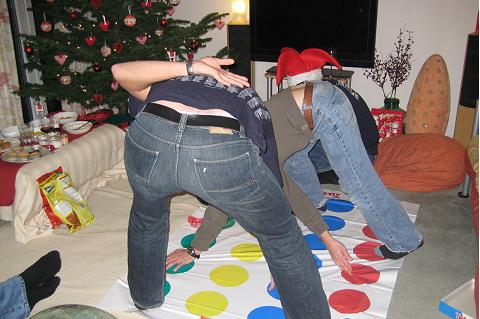 Game of Festive Twister
Happy New Year and I hope you had a very nice festive break!Despite the week rushing by far too quickly, Christmas at our house was a jolly affair with lots of friends, chips, dips, games of twister, silly films, paper crowns, walks, evenings out and even an extended visit from the Plumber after our hot water tank died a death….New Year was taken at an equally relaxed pace with a couple of movies, drinks and some awesome fajita's (thank you Neil), leaving us the next day quite refreshed and ready for action! This New Year for some reason I felt a pressing need to go to Windsor Castle, and so Neil (having now cottoned on to what makes his life easier) kindly indulged me in this and I/possibly we had a lovely day with the Castle almost to ourselves, that is apart from a couple of Australians wheeling their suitcases about the state apartments, and an obnoxious American child preoccupied with looking up the skirts of waxwork models…
And so now here we are in 2008! I have been looking forward to the beginning of this year with a peculiar sense of both excitement and trepidation. 2007 (as it appears for quite a few people) was not one in which all things ran smoothly, but my reckoning is that it was an unavoidable period of change needed to put things in perspective, ready for this year to set us on a new and better path.
To the same end, 2008 also marks the 'tipping' point for me as I wrap up the last year and a half of my life spent studying. Reading for a Masters Degree whilst also working has been every bit the challenge I was expecting and has been such a huge part of my life! I can't believe that in 8 months time and 12 more physical trips up to Oxford and it will all be over! That is not too get to whimsical about it all – there is still an awful lot of work to get done between now and August including a 15,000 word thesis on a 'Planning' subject of my choice. Titles in the running include:
The effect the quality of sticky toffee pudding has on Pub distribution.

The importance of Shoe Shops on female use of Town Centres.

How best to accommodate a Sleigh and Reindeer parking bay on applications for major housing schemes.

Planning for Wine Tourism in Southern California.
 We submit our proposals to our tutors in a couple of weeks, so I'll let you know how that goes. Personally I think they're all winners.
So here's wishing you an excellent 2008, and success to my friends that also have a dissertation to write this year…
See you in August!