Where did it go? As you can see I am rather behind with my weekend update – and 'poor show' I say being the penultimate post of the 'my day in four' series. Please accept my apologies.
Saturday
I woke on Saturday having had a marvellous sort of sleep – one of those ones where you wake up feeling heavy and relaxed, and this happy sensation was furthered as I rolled over to find bright sunlight streaming through the gap in my curtains. I jumped out of bed (literally, I kid you not), had a shower and began what turned out to be a very productive day:
I finally got around to putting the wood stain on our new wardrobe doors!
I did some much needed housework and made all of the glass things shiny again
I looked after Janet who is suffering from a poorly yellow leaf (at the bottom draped across the pot)
After which I did some uni work and reading for my dissertation before one of my oldest and bestest friends Amanda joined me for supper. I'm not sure how she'd rate it, but I had a lovely evening as we tucked into sausage and mash, watched some girly films with a bottle of Merlot and put the world to right.
Followed by some chocolate brownie.
This is Amanda with Ant and Dec – she's so showbiz!
Sunday
Sunday was of course Mothers Day – and in true Turner tradition, this inevitably means a day out somewhere random. This year's choice was a little village called Selbourne – somewhere in Hampshire where the locals are 'local' and that's the way they like it.
In Selbourne we visited 'Gilbert White's House' and the 'Oates Museum' – somewhere Mum had been itching to go ever since I was an undergraduate in Portsmouth and we used to drive through Selbourne on our way to the coast. If I'm truly honest the museum and house were a bit lacking in things to see, but we enjoyed a very nice 'locally farmed' ham ploughmans in the dear little tea shop and walked around Mr White's extensive gardens. Here's me and my mum:
Selbourne is a very special type of place – a place time has forgotten if you will, although they certainly are doing their bit to keep up with the times, having recently installed broadband within the community:
Selbourne may also be seen to be 'doing their bit' for equal opportunities and diversity within society, giving support to all participants in this years local 'fun run'.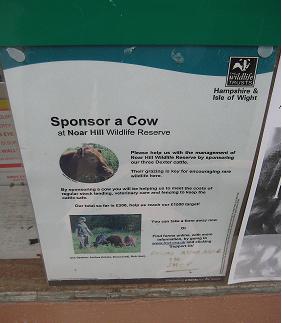 One way however that establishes Selbourne as a true 'local' community are the physical attributes of its population.
May she rest in peace.