Tuesday is the day I go to Oxford Brookes on 'day release' from work to study a Masters Degree. Currently we are being taught 'research methods' by a chap who explains everything with very emphatic hand gestures – so much so he puts the sign language interpreter who stands next to him to shame. We were quite overcome today by his frequent use of jazz hands. Below is Claire offering a reconstruction.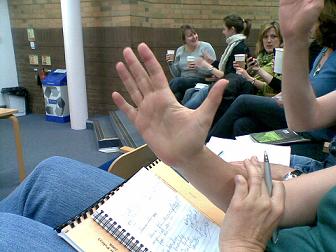 As we tend to switch off after about 20 mins, the lecturers build in coffee breaks in the hope a Mocha might help us through the many intellectually stimulating debates regarding PPS25. We simply take advantage of the fact the cafe gives you a free flake when you order hot chocolate.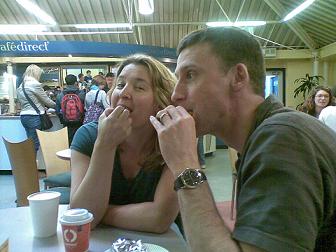 Today as a random promotion – every 'Fair Trade' drink you purchased came with a fortune cookie. Mine read:
'Accounts receivable are bill gotten gains'. Robert Orben.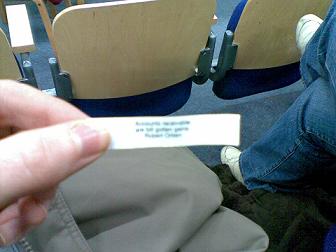 Now, I'm not sure whether you stand to be misfortunate if you are unable to understand the fortune proscribed to you, but I have no idea what this means. All I can gather is that Mr Orben could be in some kind of financial difficulty. If you are able to shed any light on this mysterious note, I would be very grateful if you felt motivated to leave a comment.
I have been having too many late nights already this week, so Tuesday ended with Janet (the pot plant – please see previous posts) and myself enjoying a cosy night in.