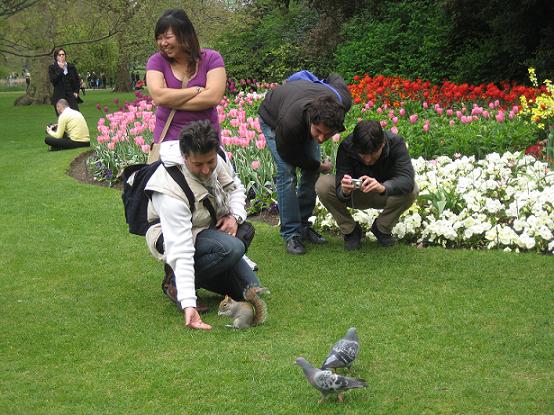 Someone asked me a little while ago what are my interests.
To be honest I don't have very many that are consistent.
I quite enjoyed swimming for a while until a German Speedo wearer started regularly attending the same sessions as me and proved far too much of a distraction to attempt anything cardio-vascular. Unfortunately the Slimming World handbook doesn't cover such things.
I have also tried my hand at horse riding, canoeing, sailing, gorge scrambling, aerobics, 'Zumba', painting, aromatherapy, pottery, archery, quad biking and glass blowing to name but a few extra curricular activities – all of which I thoroughly enjoyed but not enough to keep me 'at it' on a regular basis.
Sadly the only hobby I can really say I've stuck to and continued to derive deep personal joy from, is capturing moments like that photographed above where you just know the situation can't end well. Indeed, moments after I hit the shutter button, the squirrel bit the man causing him to yelp so loudly it startled the chap behind him holding the camera who ended up sat in the flower bed. Meanwhile the lady to his left started to hyperventilate and between gasps was shouting " You need shot, need shot!" (I couldn't agree more, but our country needs tourism) and shortly after everyone was escorted away by a Park Ranger who told them off for being on the grass. Oh how I laughed!
I've started tagging my blogs. A sad little experiment now I do 'Social Media' for food and have since discovered that a few people find my blog after searching Google for 'little but deep'.
I don't think it's safe for me to comment but that could be a different hobby entirely….