It is extremely difficult to find words that will not bore you, when in fact all that I have to say bores myself.
About three years ago, whilst doing some work experience in a planning office, a wise and greatly respected senior planner called Jane Gibson took me to one side warned me:
 "Amy – you realise that if you decide to be a Planner you will become boring. It won't be your fault, its just what happens".
She then gave me some incredibly invaluable advice…
"Planning is boring for anyone who is not a Planner. When you find yourself about to say something about Planning just stop and think – 'no one wants so know this'! People don't care that a telephone mast is the wrong shade of grey, that S106 money would be better spent on a roundabout than widening a pavement, that you don't need planning permission for a dropped kerb unless its on an A Road, and that solar panels are largely acceptable unless facing a highway".
And she was right…
 Indeed, the one person I have significantly let this rule slip with is leaving on Sunday for a fortnight's holiday in Colorado.
I really don't blame him.
Unfortunately as I am 6 months away from finishing a masters degree, and with deadline on top of deadline I dream, eat, and live Planning and find it very difficult to hold a conversation at the moment without slipping the 'P' word in somewhere. In fact I have become so incredibly boring even I saw an ex colleague in town earlier in the week who, having spotted me on approach, waved hesitantly and then crossed the road….
Furthermore, I have become my aptitude to be at all interesting hit new lows yesterday as, whilst eating lunch, I sat with genuine interest reading the ingredients of my 'Be Good to Your Insides – Spicy Chilli Bite Sized Rice Cakes'  and actually noted one of these ingredients down.
Yes, you have read correctly.
You see, I had not heard of E621 before and thought it would be quite fun to 'google' it when I got home.
This is what I am reduced to.
On the flip side having very minimal social interaction or any sort of respectable social life has taught me to appreciate the simpler things in life. The programme an 'Island Parish' for example (Tuesdays BBC2 8:00pm) has become a firm favourite – documenting the life and times of the residents of Scilly with interesting anecdotes from the local boat driver who claims that you are unable to buy buttons on the Islands (this sort of drama is all I can handle). I also found myself quite overcome this week on our trip to Sainsburys when I found out that you can buy compostable bin bags and that cotton wool was cheaper if you bought it from the baby aisle.
I have now however moved on to that quite awful stage of personal dullness where I find delight in other people's misfortunes….
Which is why I found this lady having to reverse down a one way street so appealing…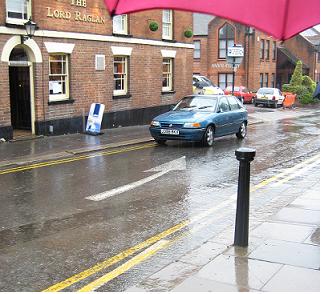 So much so I felt the need to take a photograph to mark the occasion.
So I will leave you here with the knowledge of how sad I have become.
I'll be back when I find myself mildly more interesting. 
P.S. Tony I am ever so glad you like your ALBD prize. When we finally finish the garden I feel you may have to be the guest of honour at our 'Outdoor Space Warming BBQ'. Perhaps you could even bring the ribbon to cut?